One of the best things about working in London is finishing work.
That's when everyone looks at each other over their computer screens at 5.20pm with a quizzical expression which roughly translates as: pub? as if going straight home was ever going to be an option.
Of course you're not going to go straight home. It's summer, which means it's probably raining, and a little bit chilly, so naturally you're going to drink beer outside the pub until you're pissed and the sun goes down, then you'll abandon the pavements and carry on inside.
This Friday ritual is about as London as its gets.
And for years it never really occurred to me that it might not happen everywhere else in the world. What do you do after work? I'd ask my emigrated friends. Why wouldn't you go to the pub? In fact, where are all the pubs? What do you do after work if not proceed, with your colleagues, to the pub?
Then I went to Bern in Switzerland, where they do not go to the pub.
And to be honest, I can sort of see why.
Bern is the capital of Switzerland.
This is something I found out five years ago when my sister moved there. Before that I just assumed the capital was Zurich, much like everyone else. Well, it isn't. The capital of Switzerland is Bern, which explains the slightly ostentatious bear pit, the volume of traditional hats bobbing around, and the city centre's unnecessarily giant sized clock.
I've been there a few times at different times of year. In winter, the centre of town after work is pretty much just hoards of people heading towards the main train station with skis.
But summer: mate. This lot have got it nailed.
Like most things in Switzerland, everything in Bern looks like it was custom built to make you jealous.
And likewise, the Aare is exactly the sort of river you'd want running through your city, in that you won't find the bones of 13th century sailors, horse-sized rats or dysentery lurking in the depths.
Even its mildly unsettling fast flow and the vague threat of death-by-grates if you don't get out in time at the end is mitigated by the fact that you can see the bottom, something even the Serpentine hasn't been able to offer swimmers since about 1859.
Bern's river is so good that people go there after work instead of going to the pub or straight home to annoy their partners, parents, or kids.
Instead they go to the Aare, strip off, chuck all their clothes into a dry bag, or just leave them by the side for literally no one to steal, and float down at the end of the day.
And if it's been a particularly tough afternoon, they'll hire a flotilla of large inflatable rafts, fill a barrel with booze, assemble their mates and do it that way instead.
Which is why it's not at all unusual to see a procession of floating flamingos, sharks, dogs in life jackets, and occasional unicorns whizzing past you while you take selfies and chill.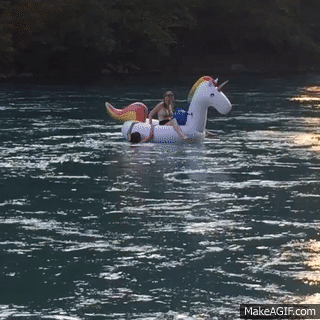 But yes, good question:
what if you don't want to swim because your WFS (Work From Switzerland) day has left you tired?
This is Switzerland, so naturally the river banks are also idyllic mini beaches of calm where you can lie down and just, y'know, listen to your neighbour's bangin' Jamie xx / Caribou tune selection, put your bottle of wine in the water to chill, and nip in for a gentle paddle or just sit on a rock.
The whole thing is very much better than the pub.
Especially if there is also a dog.
So there you have it, proof that Switzerland is basically wiping the floor with the quality of life you enjoy in London and oh yeah, lol, they're all paying less tax, too.
Enjoy your trip to the pub after work on Friday, guys. I know I certainly will!
(River Thames: your move.)